ACURA VS LEXUS VS INFINITI
Acura, Lexus, and INFINITI are all Japanese car brands that manufacture vehicles with tons of style and comfort. However, only one may have the car that matches your lifestyle in the North Andover, Peabody, and Danvers areas.
To help you decide, our team at Ira Lexus of Danvers created this Acura vs. Lexus vs. INFINITI comparison. Keep reading to see who wins this battle of the brands, and
feel free to contact us
if you have any questions!
ACURA VS LEXUS VS INFINITI RELIABILITY 
Acura, Lexus, and INFINITI all offer impressive automobiles. However, LEXUS may have a bit more to offer in terms of reliability.
Lexus is seen as highly dependable according to J. D. Power. In fact, it earned five awards for "Highest Dependability." The ratings were based on a study that measured the number of problems per 100 2015 model-year vehicles for 12 months. In the end, Lexus came out on top as one of the highest-ranked brands.
Unfortunately, neither Acura nor INFINITI fared as well, as neither received awards in this category. In fact, Acura only received one award for Quality, while INFINITI received just one for Dealership Service.
Additionally, U.S. News & World Report ranks Lexus models higher than Acura and INFINITI in various categories. For example, in the Luxury Midsize Car category, Lexus had four models rank in the top 10. They easily beat out Acura and INFINITI, who only had one model each make the list. In the end, Lexus seems to come out on top with overall quality in their lineup.
SAFETY RATINGS & OPTIONS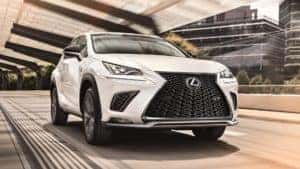 It's important to drive around in a secure automobile for great peace of mind. Lexus recognizes this and has engineered a lineup of extremely safe vehicles. In fact, four of its vehicles earned a 2018 TOP SAFETY PICK rating from the Insurance Institute for Highway Safety (IIHS), and one of them, the RC, earned a 2018 TOP SAFETY PICK+ rating from the IIHS.
Acura, meanwhile, only had two cars earn the former award, with one earning the latter. Unfortunately, INFINITI didn't get any recognition from the IIHS.
A big reason for Lexus getting these commendations has to do with its suite of driver assistance technologies. For example, the Lexus Safety System+ was designed to help alert you to things you might miss while driving so that an accident doesn't occur. One particular feature you'll find in this suite is a Pre-Collision System with Pedestrian Detection. If it detects a likely collision with a person or other vehicle, it'll warn you to take action; if you don't react fast enough, it can apply the brakes for you.
WHICH LUXURY BRAND COMES OUT ON TOP?
Acura, Lexus, and INFINITI each offer their own great lineup of vehicles with tons of features. However, Lexus is seen as the better brand with higher safety ratings and better overall quality.
To learn more, simply stop by Ira Lexus of Danvers. We'll walk you around our showroom and demonstrate how the various vehicles operate, and you'll even get to test drive a few models to see which one is right for you!