SYNTHETIC VS CONVENTIONAL OIL


Motor oil is crucial to maintaining the health of an engine. Without it, the engine can overheat and break down, leaving you without transportation in North Andover, Peabody, or Danvers. A vehicle can be equipped with conventional or synthetic oil. But, which is best for your car? This guide to synthetic vs. conventional oil can provide all the information you need to answer that question. Read through the information below, and learn where to go if you have any questions or need service.
WHAT IS CONVENTIONAL OIL?
Conventional oil starts off in the ground, and is distilled and refined from crude oil. It's the most common and affordable oil type, making it a popular option among drivers. In addition, it can be used for many different automobiles, specifically new ones that just came off the assembly line. It's recommended to use conventional oil for the first 5,000 miles, to "break in" the car. In fact, if you use synthetic oil this early, it could diminish the vehicle's overall performance.
WHAT IS SYNTHETIC OIL?
Synthetic oil, meanwhile, is created artificially from chemical compounds. This is done molecule by molecule, to get the best properties of natural oil. It also gets tailored to meet specific demands of more modern engines.
Because synthetic oil doesn't contain the impurities often found in conventional oil, it can cost two to four times more per oil change. However, it lasts much longer than conventional oil. Whereas conventional oil changes are usually every 5,000 to 7,500 miles, synthetic oil changes are typically every 10,000 to 15,000 miles.
SYNTHETIC VS CONVENTIONAL OIL: WHICH IS BETTER FOR YOUR CAR?
Unless your vehicle requires synthetic oil, you don't really need it. It has many benefits, however, that could make it worthwhile.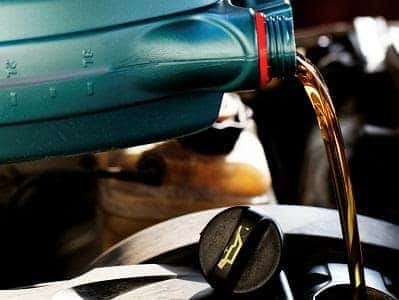 For example, synthetic oil does a better job at keeping your engine cleaner. Over time, oil will pick up deposits as it circulates through the engine. Those deposits can eventually turn to sludge in conventional oil, which reduces the engine's life. Because synthetic contains fewer impurities, it does a better job at resisting sludge formation.
Furthermore, synthetic oil generally performs better in extremely hot or cold temperatures. The engine, in general, gets very hot from regular use. If it's also hot outside, then conventional oil can break down or evaporate quickly. But synthetic oil resists heat better, making sure your engine lasts longer in this type of environment.
In extremely cold temperatures, conventional oil can take a long time to start flowing through the engine to protect its most critical parts. Synthetic oil, on the other hand, was engineered to flow quickly, even in low temperatures—especially helpful when you have to get to work in the wintertime.
SCHEDULE AN OIL CHANGE AT IRA LEXUS OF DANVERS
WHETHER YOUR VEHICLE USES CONVENTIONAL OR SYNTHETIC, YOU'LL STILL HAVE TO GET YOUR OIL CHANGED ON A REGULAR MAINTENANCE SCHEDULE. YOU CAN DO SO AT IRA LEXUS OF DANVERS, WHERE YOU'LL FIND A STATE-OF-THE-ART FACILITY EQUIPPED WITH HIGHLY TRAINED AND CERTIFIED TECHNICIANS.
THEY'LL ONLY USE THE HIGHEST QUALITY OIL FOR YOUR AUTOMOBILE. PLUS, THEY'LL WORK QUICKLY AND EFFICIENTLY, SO YOU CAN GET BACK TO DRIVING AROUND NORTH ANDOVER, PEABODY, AND DANVERS IN NO TIME.