Lexus NX vs Toyota RAV4

As you shop for a new crossover SUV to fuel your next adventure, research is important. That's why we put together this vehicle comparison of the 2020 Lexus NX and 2020 Toyota RAV4. Shoppers in Danvers, Peabody, and North Andover can use it to evaluate their options as they consider the possibilities.
Toyota is known for reliability yet Lexus pairs that quality with luxury for a potent blend of performance and style. To learn more about these vehicles, reach out to us at Ira Lexus of Danvers today!
NX vs RAV4: Primed for Performance
The 2020 NX and RAV4 have solid powerplants pushing them forward. Both offer just one engine option. For the Toyota RAV4, it's a 2.5L 4-cylinder that kicks out 203 horsepower. The Lexus NX, meanwhile, runs on a 2.0L turbo 4-cylinder with 235 horsepower on tap.
While the power outputs are quite similar, the turbocharger gives the Lexus NX more verve on the road. Its incredible 258 lb-ft of torque gives you brisker acceleration at low speeds. By contrast, the engine in the Toyota RAV4 falls a bit short with just 184 lb-ft of torque.
All-wheel drive is available on both models. When winter rolls around and you want more grip on those snow-covered roads, these Lexus and Toyota SUVs have you covered.
Signature Tech Leaves an Impression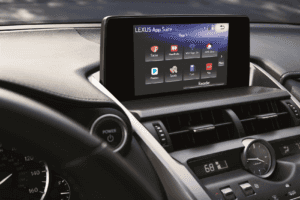 The first impression other drivers have of you? It may very well be your headlamps. Luckily, the Lexus NX and Toyota RAV4 shine in this department—literally. Both offer full-LED headlights and an Adaptive Front Lighting System to help the lamps swivel in the direction of your steering wheel as you lean into a curve.
The Lexus NX wins out when it comes to the aesthetic of those headlights. Only it offers premium Triple-Beam LED Headlamps as an option, complete with a three-projector design that is sure to turn heads. Its LED taillights were inspired by the facets of a cut gemstone—another mark of this SUV's luxury.
As you move to enter the Lexus NX, you'll find door handle illumination to welcome you. It's just a small touch, but one that enhances the aesthetic in a way the Toyota RAV4 can't quite match.
Slide Inside: Cabin Comfort & Design
Your adventures may take you far beyond Danvers, Peabody, and North Andover. When they do, you'll want a crossover SUV that can keep you cozy for the long drive ahead.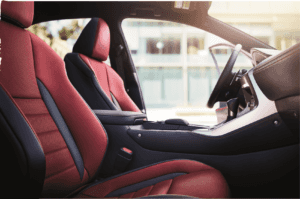 In many ways, the 2020 NX and RAV4 exceed expectations where comfort is concerned. Both have dual-zone climate control, a convenience that lets the driver and front passenger control the temperature for their own seats. Moonroofs are available, too, so you can let the outside elements in.
When it comes to cabin design, the luxurious Lexus NX has an edge. Available Black or Crème perforated leather looks sleek against the Linear Black Shadow wood accents! The Toyota RAV4 simply doesn't offer materials like this—you'll have to settle for imitation leather and hard plastics.
Should I Buy the Lexus NX or Toyota RAV4?
As you can see from this comparison, the 2020 Lexus NX and 2020 Toyota RAV4 really stand out in their respective segments. If you're shopping for a small crossover to conquer your daily drive, both can offer aesthetic appeal, high-tech features, and incredible capabilities.
However, only the Lexus NX has the trappings of a true luxury SUV. If you're ready to elevate your drive, see the style that awaits and test drive the NX at Ira Lexus of Danvers. We hope to see you soon!