WHY WON'T MY CAR START AFTER AN OIL CHANGE

Oil is what keeps the engine's moving parts cool and lubricated. It needs to be clean to properly do its job, so regular oil changes near North Andover, Peabody, or Danvers is vital.
However, there may be instances when your car won't start after an oil change. There could be different reasons why this is happening. We'll tell you some of those below, along with how you could resolve the issue today.
Read through our informative guide, and then SCHEDULE SERVICE AT IRA LEXUS OF DANVERS.
Reasons Why Your Car Won't Start After an Oil Change
Failing fuel pump
Clogged fuel filter
Issues with starter
Too much oil
Bad battery
1. FAILING FUEL PUMP
The fuel pump is what moves the gasoline from the tank to the engine. If you hear any sputtering or backfiring, then there may be an issue with said fuel pump. It could also overheat, causing the engine to overheat. When that happens, the engine may stall, and your vehicle may not run at all.
2. CLOGGED FUEL FILTER
The fuel filter helps prevent dirt and debris from getting inside the fuel line. If the filter gets clogged, then the car won't start. This should be changed after every oil change. However, your car may need a fuel filter replacement every 12,000 miles, after an oil change is needed. Still, if you think the filter is clogged, then bring the car to a technician to take a look at it.
3. ISSUES WITH THE STARTER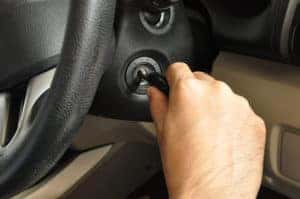 You'll know the starter is going bad if you hear a clicking noise when you turn the key in the ignition. However, you may also hear a buzzing noise when the key is on. You could hear a whirring noise, which indicates the starter spinning but not connecting with the flywheel, which means your car won't start.
4. TOO MUCH OIL
An oil reservoir is designed to hold a bit of extra oil for two main reasons. One is to compensate for fluid expansion in warmer climates. The other reason is to help prevent the engine from getting damaged.
If too much oil gets poured into the reservoir, the excess can spill into the crankshaft as it spins. The oil is then mixed with air, resulting in decreased oil pressure. Once that happens, the oil can't be pumped effectively, which can lead to engine failure.
5. BAD BATTERY
One of the most common reasons why a car won't start after an oil change has to do with the car battery. This can especially happen after a long, hot summer. The higher the temperature outside, the more strain that's put on a car battery. Once the season ends, you're more likely to have a WORN CAR BATTERY.
SCHEDULE SERVICE FOR YOUR LEXUS TODAY!
IF YOUR CAR WON'T START AFTER GETTING AN OIL CHANGE, THEN CONTACT US AT IRA LEXUS OF DANVERS. WE'LL CHECK OVER YOUR ENTIRE VEHICLE TO MAKE SURE EVERYTHING IS IN TIP-TOP SHAPE. THIS WAY, YOU CAN GET BACK TO YOUR DAILY ROUTINE IN NORTH ANDOVER, PEABODY, OR DANVERS.
DON'T WAIT. SCHEDULE SERVICE AT OUR LEXUS DEALERSHIP TODAY!