Why Do I Need to Change My Car's Oil?

Changing your car's oil is one of the most important things you can do for it when it comes to its health and longevity. Ira Lexus of Danvers has drawn up the following information for the purpose of explaining to North Andover, Peabody, and Danvers drivers a little bit of why this aspect of automotive maintenance is so vital. We'll also be going over how often it should be performed as well as key warning signs that can tell you that you're about due.
Continue reading to learn all about it. Don't hesitate to call, email, or stop by with any questions you might have along the way. Our certified technicians in the service center are always willing to talk shop.
Why Oil Changes are Necessary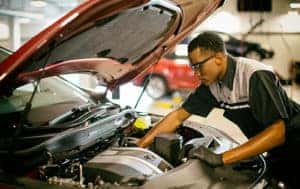 As oil ages, it will begin to break down. Eventually, the aging oil will start to collect any dirt and debris that it can find as it's making its way through the inside of your engine. If this process is left to develop on its own, the result will be the creation of sludge, which isn't quite as effective at protecting your engine.
See to it that your oil is changed on a regular basis to protect your car's machinery from premature wear.
Keep an Eye on Your Odometer
Continually checking your mileage is the easiest way to keep track of when to have your oil changed. If you drive an older vehicle, it likely runs on conventional oil. If this is the case, it will need to be switched out every 3,000 to 5,000 miles.
The range for new cars that use synthetic motor oil is from 6,000 to 7,500 miles. If you're unsure about which type of oil you should have flowing through your engine, take a look at your owner's manual.
A Few Key Hints that You Should have Your Oil Checked Out
In the event you're not sure how many miles have passed since you last changed your oil, there are some ways your car will let you know that it needs to be done. They are as follows:
The Warning Lights on Your Dashboard. If your vehicle is equipped with a light that monitors oil levels, you'll be able to know right away that it needs some attention. The check engine light is also a good indicator. If you notice that this one has popped on, be sure to have things looked at right away.
Unusual Engine Noises. You will also want to have the oil situation examined if your engine is running louder than usual. Strange sounds like clicking, knocking, or rumbling should also be addressed.
Oil Color. Healthy oil takes on a honey or amber hue. Have it changed if you see that it's dark brown or black. Oil that has dirt in it should be changed as well.
Schedule Your Oil Change Today
Whether your odometer is telling you that it's about time for an oil change or some of the warning signs above sound a little familiar, we'll be happy to take care of that for you.
If you live or work in North Andover, Peabody, or Danvers, contact Ira Lexus of Danvers today to set up your appointment.